The ride on Saturday, Nov 9, was a little different.  The ride was a combined VeloRaptor/Rotary ride to Treasure Island.  The start time was set for 10 am, hoping the fog would be burned off by then, but no such luck.  The temperature wasn't bad (52 deg), but the fog was thick enough that we couldn't see the bay.  Dennis showed up with his 89 Toyota 4Runner, and was impressed that Mark had a 92 version.  Dennis didn't ride, but decided to meet us at the restaurant on TI.
Seven of us pedaled out into the gloom from the Brickyard pavilion and stopped to give our respects to the Bridge Troll along the way.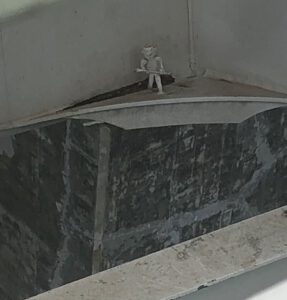 I got a call from Dennis just as we reached the end of the bridge path.  He wanted to let me know that the power was out everywhere on Treasure Island.  While I was taking the call, the others passed me and headed up the Yerba Buena Island hill.  Dennis decided to hang around the closed Mersea restaurant for a few minutes until we arrived.
We rendezvoused with Dennis at the restaurant, but realsized that one rider (Mark from Rotary) wasn't with us.  I called him and learned that he was at the nearby Aracely café where Carla (another Rotarian) was waiting to meet us.  We cycled the short distance over to Aracely and found that it was open, albeit without power. As we rode up a group of firemen were leaving  with what turnd out to be the last few cups of coffee. Fortunately, Aracely still had pastries and hot water for tea. We had had nice snack break and somehow Carla ended up volunteering to SAG for one of our rides!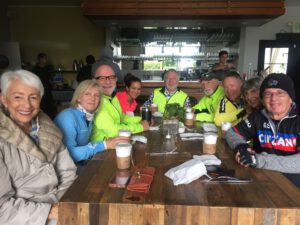 The return ride was uneventful and several of us stopped for coffee at the Blue Bottle on Broadway.  Herb brought Kate along on the ride and I learned that she teaches 6th grade math.  I asked was subjects she covered during the year and our discussion led to me volunteering to come to her class and do a brief show and tell about my career. Basically, these kids have little exposure to career opportunities beyond service industries, etc. I think my 3 minute Rotary self-introduction can be expanded to 10-15 minutes and expose them to career paths in science.
-Steve Blair